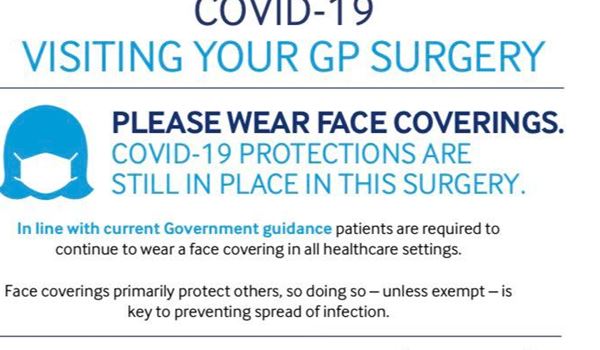 We Are Open
We are open. Our appointment system is running as normal. You have a choice if to book face to face or telephone consultations. In some cases, of course a face to face appointment will be needed (for example if a physical exam will be required), but otherwise you have the choice.
To minimise the number of people in the building, please contact us by phone to make an appointment or with any queries. Do not drop in to the practice. Thank you for your understanding.
If you are unable to use the phone for any reason then please contact to us to make other arrangements. using the Contact Us form on this website.
Prescriptions should be ordered online.
If you have symptoms of Covid19 then you must stay at home and also get tested straight away. Read more here.
If you are contacted by NHS Test and Trace then you must stay at home. Read more here.
Our Appointment System Now
GP Routine Appointments
We have routine appointments available to book. We may ask you to send in photos or to take part in a video consultation.
Face to Face Appointments
We are booking face to face appointments. Please be assured that the practice is a low-risk environment. We maintain stringent cleanliness and social distancing. With only a few people coming in to the building, there is plenty of space to spread out. PPE is worn for all face to face appointments. All pre-bookable face to face appointments are being seen on the 2nd floor
We are booking all the usual face to face appointments with the Nurse Team for childhood immunisations, smear tests, ear syringing, blood tests (as requested by a GP or for medication monitoring), injections such as B12, and Birthday Month review appointments for those who live with a long term condition such as diabetes or hypertension.
For GP appointments, we are offering a choice: you can book either a phone call appointment or a Face to Face appointment.
If you have symptoms of Covid19 then you must stay at home and not attend your appointment. Read more here.
Hot and Cold patients
Why are you seeing some patients in a different part of the building to others?
Since the pandemic started we have been required to separate our patient facing work into "Hot" and "Cold". "Hot" means any patient who might have an infectious disease. "Cold" is everyone else. The reasons for separting the two are are:
To decrease risk to our patients, particularly those who are vulnerable and so are likely to get more unwell if they caught an infectious disease
To decrease risk to our staff, particularly those who are vulnerable and so are likely to get more unwell if they caught an infectious disease
To decrease the spread of infectious diseases
Which patients are seen as "HOT"?
Any patient who might have an infectious condition.
New cough
Temperature/hx suggestive of fever
Loss of sense smell/taste
New breathing issues
Viral symptoms e.g sore throat or achey (but most of these do not need F2F appts)
Rash of the sort that may be infectious (not all rashes are infectious)
Diarrhoea +Vomiting
Who has someone in their household has covid, or they have been in contact with someone who has covid and are waiting for a test
Where are HOT patients seen?
We aim to see HOT patients in a different place to patients who are not hot ie who are not likely to have an infectious condition. The aim is to avoid spread between the different patients seen in the HOT stream of work. We know that ventilation is important to reduce risk of spreading infectious conditions.
The best ventilated space we have is our outdoor consulting room. Therefore, we see most of our HOT patients in this space as this is the safest option. It is wheelchair accessible.
We also have an indoor isolation room which has its own entrance. We use this for patients who need to be seen inside for example.
Need to be examined on the couch (e.g. an abdominal examination or an intimate examination is required)
Small children who need to be undressed
Testing for Covid
If you have covid symptoms then you must get tested. Covid symptoms are a high temperature, a new continuous cough, a loss or change to your sense of smell or taste. There is no need to get a test if you have other symptoms. You can also get a free test if you have been asked to do so by local councils or by a healthcare provider.
Click here to go through to gov.uk website to arrange a test. If you do not have internet access then call 119. If there are no tests currently available then try again a few hours later. The same tests are available online as by phone: if no tests are available online then none will be available via 119 either.
If you want a test in order to travel to another country, then you should pay for one privately.
Sorry, but we cannot advise on any aspect of testing, we cannot help you get a test more quickly or more locally. The system works completely separately from general practice. The results are sent to you directly.
Looking After Yourself
Covid19 - Your Mental Health & Wellbeing
The coronavirus (COVID19) outbreak is having an impact on everyone's daily lives.
During this time, you may be bored, frustrated or lonely. You may also feel low, worried, anxious, or be concerned about your health or that of those close to you. Everyone reacts differently to events and changes in the way that we think, feel and behave vary between different people and over time. It's important that you take care of your mind as well as your body and to get further support if you need it.
The Government has published advice for us all about how to look after ourselves at this very difficult time. Read it here.
Useful Links
We find Mindwell very useful; it is an information hub with the latest information and resources to help people in Leeds take care of their mental health at this time.
MindMate is a trusted Leeds-based website specifically for children and young people, their families and the professionals who support them.
ActiveLeeds - To help support everyone at home, Leeds Council has online resources for all ages, including home workout tutorials, guidance and information, and fun challenges to try at home.
Carers
If you care for someone, then this time can be particularly difficult. The Government has made some guidance for carers which is here.
Carers UK has also got lots of useful help and resources here.
In Leeds, if you need practical help such as shopping or medicines, then please call Doing Good Leeds on 0113 378 1877.